A Chara,
Tá liosta scannáin na Nollag fógartha ag TG4 inniu. Leis seo tá na scannáin Ghaeilge a bheidh le feiceáil ar an gcainéal thar saoire na Nollag. Beidh an chéad chraoladh den scannán 'Lego Ninjago' as Gaeilge á chraoladh Lá Nollag ag 11:30am.
Bheinn buíoch dá bhféadfaí é seo a scaipeadh i measc múinteoirí agus tuismitheoirí na scoile.
TG4 announced its Christmas movie schedule today. Included here is information about Irish language versions of children's movies that will be aired over the Christmas holidays on TG4. Lego Ninjago as Gaeilge will air for the first time on Christmas Day at 11:30am.
I would be grateful if you could share this list amongst teachers and parents of your school.
Le gach dea-ghuí,
Deirdre Ní Choistín
Bainisteoir Cumarsáide TG4
Scannáin Ghaeilge ar TG4 an Nollaig seo.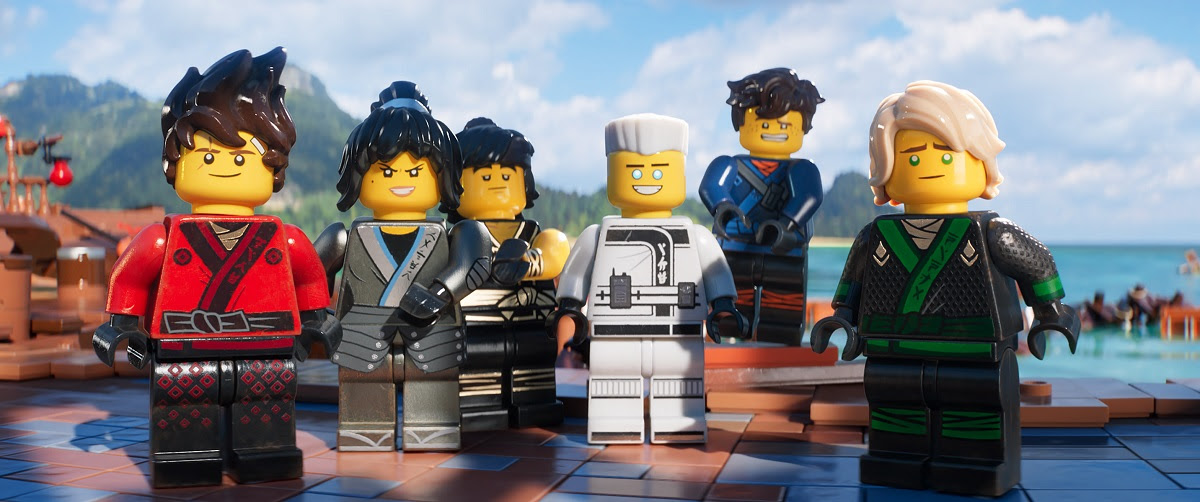 Louis & Luca and the Snow Machine - 19.12.20 3:55pm
(2013, Scannán Grinn) Tá Louis an snag breac agus Luca an ghráinneog ag súil go mór le sneachta. Ach tá an Nollaig ag teannadh linn agus gan cuma ar bith sneachta air. Beartaíonn Alfie Clarke, an ceapadóir, meaisín mór a dhéanamh a chlúdóidh an baile le sneachta. Téann rudaí ó smacht go sciobtha, áfach.
(2013, Comedy) Louis the magpie and Luca the hedgehog are hoping for snowfall this Christmas. With the holiday just around the corner and not a snowflake in sight, inventor Alfie Clarke decides to build a giant snow machine to blanket the town. However, things quickly snowball out of control.

Curious George - 23.12.20 4:40pm
(2006, beochan) Will Ferrell an príomhaisteoir sa scannán seo faoi stiúir Matthew O'Callaghan. Is fear uasal é Fear an Hata Bhuí a thugann aire dá pheata beag - moncaí - peata fiosrach agus aoibhinn a ligeann dá dhíograis an ceann is fearr a fháil air!
(2006, animation) Starring Will Ferrell. Directed by Matthew O'Callaghan. The Man in the Yellow Hat is a gentleman who looks after his pet monkey - an inquisitive and wonderful creature whose enthusiasm often gets the best of him.

Happy Feet Two - Oíche Nollag 4:45pm
Tá mac ag Mumble agus ag Gloria anois darb ainm Erik. Tá Erik in amhras faoi na buanna atá aige féin. Ach tá nithe eile go leor ag bagairt ar na piongain anois agus caithfidh gach uile dhuine oibriú (agus damhsa) le chéile chun an choilíneacht a thabhairt slán. Leagan Gaeilge arna léiriú ag Abú Media.
Mumble and Gloria now have a son of their own, Erik (E.G. Daly), who is struggling to find his own particular talents in the colony. But new dangers are threatening the penguin nation, and it's going to take everyone working (and dancing) together to save them. Irish language version produced by Abú Media.

Shrek - Oíche Nollag / Christmas Eve 5:25pm
(2001, Beochan) Leagan Gaeilge den scannán Shrek: Is gruagach é Shrek a chónaíonn leis féin sa choill agus a bhfuil faitíos ag muintir Duloc ar fad roimhe. Bíonn suaimhneas breá aige go dtí go ndíbríonn an Tiarna Farquaad gach a bhfuil sna scéalta sí isteach sa choill. Ní bhíonn aon rogha aige ach rud éigin a dhéanamh faoi!
(2001, Animation) Shrek is a big ogre who lives alone in the woods, feared by all the people in the land of Duloc. When Lord Farquaad, the ruler of Duloc, exiles all the fairy-tale beings to the woods, Shrek loses his peaceful life - until he decides to do something about it.

Lego Ninjago - Lá Nollag / Christmas Day 11:30am (An Chéad Chraoladh ar TG4)
(2017, Beochan) Leagan Gaeilge den scannán Lego Ninjago. Caithfidh seisear ninja óga: Lloyd, Jay, Kai, Cole, Zane agus Nya, an cathair Ninjago a chosaint ón Tiarna Garmadon.
(2017, Animation) Six young ninjas: Lloyd, Jay, Kai, Cole, Zane and Nya, must protect the city of Ninjago from the evil Lord Garmadon

SpongeBob - Spúinse as Uisce - Lá Caille / New Year's Day 3:15pm
(2015, Beochan) Tá saol maith ag SpongeBob SquarePants i Bikini Bottom in éineacht lena chairde Patrick, Squidward, an tUasal Krabs agus Sandy. Ach nuair a ghoidtear oideas rúnda an Krabby Burgar, caithfidh SpongeBob dul i bpáirt lena namhaid mór Planctón agus teacht i dtír chun aghaidh a thabhairt ar an bhfoghlaí mara gránna agus cruálach, Feoil-Feasóg, a bhfuil a phlean féin aige do na burgair speisialta seo.
(2015, Animation) Life is dandy in Bikini Bottom for SpongeBob Squarepants and his friends Patrick, Squidward, Mr. Krabs and Sandy. However, when the top-secret recipe for Krabby Patties is stolen, SpongeBob finds that he must join forces with perpetual adversary Plankton and come ashore to battle a fiendish pirate named Burger Beard, who has his own plans for the delicious delicacies.